news
IPad 2 has Arrived for Rental
| | | | |
| --- | --- | --- | --- |
| | July 07, 2011 | | ADMIN |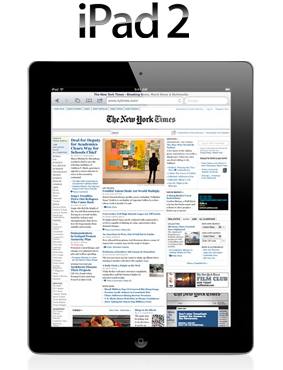 IPad2 16GB Wifi black has arrived for rental at PC Rent, with two cameras for FaceTime and HD video recording. The dual-core A5 chip. The same 10-hour battery life. All in a thinner, lighter design. Now iPad is even more amazing. And even less like anything else.
Thinner, lighter, and full of great ideas.
Once you pick up iPad 2, itll be hard to put down. Thats the idea behind the all-new design. Its 33 percent thinner and up to 15 percent lighter, so it feels even more comfortable in your hands.2 And it makes surfing the web, checking email, watching movies, and reading books so natural, you might forget theres incredible technology under your fingers.

Two cameras. And a big hello to FaceTime for iPad.
Youll see two cameras on iPad 1 on the front and one on the back. They may be tiny, but they are a big deal. They are designed for FaceTime video calling, and they work together so you can talk to your favorite people and see them smile and laugh back at you. The front camera puts you and your friend face-to-face. Switch to the back camera during your video call to share where you are, who you are with, or whats going on around you. When you are not using FaceTime, let the back camera roll if you see something movie worthy. Its HD, so whatever you shoot is a mini-masterpiece. And you can take wacky snapshots in Photo Booth. Its the most fun a face can have.